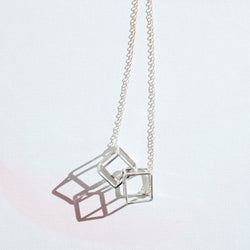 Aanoosh Cube Necklace
aah-noosh
I made this necklace to represent my relationship with Aanoosh more than anything else. They are the person with whom my life is intertwined the most - so this necklace consists of two cubes (my favourite motif) intertwined. Available in both sterling silver and 14k gold fill, it's sure to make a statement.  It's delicate and subtle, but strong and unusual - just like Aanoosh themself. 
Aanoosh is my youngest sibling and the love of my life. Eleven years younger than me, people have always assumed they are my child. They're a little bit quirky. But they have a strong idea of who they are; even at 17 years old. They're always striving to do right by the world, take care of it, and the people in it. I couldn't be more proud. Aanoosh is all the best parts of me - but they'll take those traits and do even more with them. Of that I have no doubt. 
Make a set of it- the Aanoosh necklace goes great with the earrings named after our other sibling Nabi. 
The lead time is 4-6 weeks. If you need it in less time, leave me a note and we'll work something out.